Ever wanted to be in the hands of two gorgeous Lesbian Dommes who controlled every breath you take.. submit now to Mistress Joanne and enjoy our selection of breath control movie clips an pictures.
Lesbian Dommes NEW Great female domination site dealing exclusively with women dominating women. This is a very popular type of femdom that has a large following as many are those who enjoy woman to woman domination images and movies.
Recommended Lesbian Dommes Movies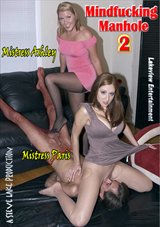 Mind Fucking Manhole 2
Mistress Paris picks up a stranger and, together with Mistress Ashley, spends 67 minutes punishing the lucky submissive and allowing him to indulge his panty hose fantasies as he is humiliated, anally probed, and made to milk himself.
The lovely ladies keep his face in their pussies and ass, tie him up with pantyhose, put red fishnets on him, and keep his balls bouncing and his ass filled!
Four Free Movie Clips of Lesbian Dommes
Lady Joanne Gallery - Lesbian Dommes
Lady Joanne Lafontaine is our resident Mistress..... click on a picture for a larger version.