The following movie review includes at least FOUR FREE SPITTING FETISH MOVIE DOWNLOADS: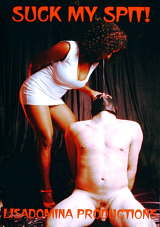 Suck My Spit
Running Time: 47 minutes
Studio: Lisadomina Productions
Stars: Mistress Lisa Sissy Sandy Slave Jeff
Mistress Lisa prepares for her toilet slave by pissing in a baby bottle and a dog bowl. Then we get to see her humiliate her slaves in several memorable clips where she spits all over her slaves face and in his mouth. Never one to let a slave go hungry, Lisa chews up food and spits it in the piss pot pushing his head into the disgusting mess with her stiletto heels!