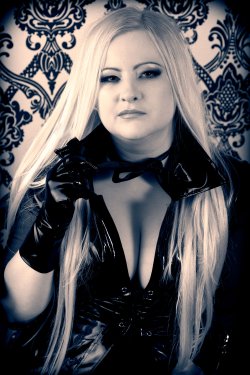 Profile Views: 11755
BBW Mistress
BDSM Mistress
Blonde Mistress
Busty Mistress
Tall Mistress
Adult Baby Minding
Anal Play
Ass Worship
Ballbusting
BDSM
BDSM (giving)
Being Filmed
Body Worship
Bondage
Breath Control
Caning
CBT
Cross Dressing
Domination
Face Sitting
Fetish
Fisting
Foot Worship
Hardsports (Giving)
Humiliation
Key Holding
Queening
Rimming (Receiving)
Role Play & Fantasy
Sissification
Smothering
Spanking
Strap On
Sub Games
Tie & Tease
Toilet Training
Trampling
TV Dressing
Uniforms
Watersports
Whipping
Wrestling
Account ID: 4065
Last Login: 19-03-2011 18:36:00
Mistress Charmel
Age: 26 - 30
Nationality: English
Based in Norwich Norfolk, you can visit me or I can visit you around East Anglia. Beautiful ProDomme that enjoys light to extreme domination. Sadistic, harsh yet fair.
Mistress Charmel expects 100% discipline, obedience and for Her slaves to be completely dominated. She is harsh but fair.To a slave to Supreme Charmel and to be in Her presence is an honour as She is intoxicating and memorising. She is blue eyed, tall, busty blonde Goddess with stunning looks, She can be cruel and kind, but Her superiority is always self-evident. She is an expert practitioner of discipline, correction and humiliation. She answers to nobody, exudes confidence, is always in control and does not care what anybody thinks of Her. She caters for the novice submissive wanting to see if it is for them to experienced slaves.
Nothing will happen that you do not want to and your limits will be respected. She will not leave any marks on you unless you want Her to, an ingenious way to stop this is wet shorts.
There is a kinder side to this beautiful mistress and when Her slaves do as She instructs and serves Her well, then you may be lucky enough to break through Her icy exterior. She only rewards Her slaves well when they really deserve it. However, when slaves are slack or disobedient, do not serve Her correctly or to high enough standards, then they are very likely to experience the sadistic, lethal and brutal side to Her personality. Remember, your pain is Her pleasure!
Mistress Charmel is also a model and a wide variety of photos (different poses, fetish, fashion, glamour and tease) can be brought from Her which will be emailed to you in high resolution format for worshipping on screen or printing
You can also book Her for a photo shoot but remember the financial reward must be generous, She does not do nude and must still be treated like a queen. There is a descrete photographer that can help with this.
She is a sadist, sadism is the gratification grained from the infliction of pain or suffering upon another person. Her cruelty is legendary but so is her compassion. All slaves have boundaries but she will torment in any way their imagination and physical being will allow; She cares for them too. She has a caring side...and a reputation for being terribly cruel.
Much can be inferred about a man and his Mistress; In Her he beholds his weaknesses and his dreams.
She is a Pro-Domme and Her slaves can be dear to her. Mistress Charmel can do anything She likes because She is a superior Mistress who can break balls and break the rules!
She is not your darling She is your Mistress! She is not just there for the spankings, She is a confidante sometimes a crutch. This Mistress offers a unique therapy that nobody else can provide.
Here are a few of her talents, if you find yourself growing curious about them get in touch.....and form an orderly queue.
Main location: Norwich
Covered locations: Babergh, Basildon, Bedford, Braintree, Breckland, Brentwood, Broadland, Broxbourne, Bury St Edmunds, Cambridge, Cambridgeshire, Castle Point, Chelmsford, Colchester, Corringham, Dacorum, East Cambridgeshire, East Hertfordshire, Epping Forest, Essex, Fenland, Forest Heath, Great Yarmouth, Harlow, Hemel Hempstead, Hertfordshire, Hertsmere, Huntingdonshire, Ipswich, Kings Lynn and West Norfolk, Leigh on Sea, Leighton Buzzard, Luton, Maldon, Mid Bedfordshire, Mid Suffolk, Norfolk, North Hertfordshire, North Norfolk, Norwich, Peterborough, Rochford, Romford, South Bedfordshire, South Cambridgeshire, South Norfolk, Southend-on-Sea, St Albans, St Edmundsbury, Stevenage, Suffolk, Suffolk Coastal, Tendring, Three Rivers, Thurrock, Uttlesford, Watford, Waveney, Welwyn Hatfield
| Time | Tribute |
| --- | --- |
| 1 hour | - |
| 2 hours | - |
| 3 hours | - |
| 4 hours | - |
| Overnight | - |
Other Mistresses You May Consider