UK Mistress Directory
To find your UK Mistresses, you can start searching right now. We have links to the worlds finest dominatrix. Search their sites and take a look at what you can experience today.
Mistress nearby
This is the place to start your search for a Sadistic Mistress right here. Begin your search by region, country or city. The pages are listed below for you to get straight to the profiles.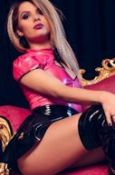 Virtual Dominatrix Experience
Get that pathetic small cock out and get in front of me right now. No mercy humiliation. From heavey degradation to mild torment. You wish is not my command. Prepare to be dominated like never before.
Sadistic Mistress is home to one of the world's premier directories of female mistresses and dominatrix. Finding what you are looking for could not be easier, and we have lots more to satisfy your kinky needs right here.
Strap-on slaves wanted
Enjoy female-to-male strapon domination. Meet Ladies who love to strap it on and dominate their men using their strapons. See dominant strapon women who enjoy the training and humiliation of men. These women do not need dungeons and whips. Their strapon will bring you to your knees, ready to worship, suck and deep throat the vast strapons until you are prepared to bend over and spread them wide for the big and hard strapon that demands that pussy boys take it; from these strapon bitches! They will make sure you become a complete strapon slave. See our long strapon streaming and downloadable movies. Strapon action at its best presented in our movie theatres. Strapon worship, humiliation and anal abuse of males!
Trampling slaves wanted
They are trampling with high heels, stockinged and bare feet. Strict, no mercy foot Mistresses punish foot slaves using their sharp, high heels and sexy feet. Enjoy painful trampling under high heels, bare feet, nylon feet and boots. We have all types of trampling and all high quality and exclusive pictures and movies of absolute trampling. Head standing, face standing, and even standing on the throat and neck. No fakes, just actual total weight standing on the foot slaves. These women allow nothing to escape. They trample every part of the body, including cock and balls, hands and feet. If caught under their heels and feet, you will come out tendered meat from head to toe marked with their heels and aching for days, only to come back for more abuse. Expect to be flattened under super dominant feet!
Brutal CBT available
Total cock & ball torture in every imaginable way! A new meaning to the phrase "she has you by the balls" is Fierce and mean Femdoms that love inflicting pain and torturing male genitals. Witness extreme torture of male genitals, including nailing of balls, piercing with needles, electro torture, ball crushers, stretching of genitals and cigarette burning of cocks. These Ladies have devious tortures you've been expecting. See cbt with sharp nails, powerful hands and dominant feet and high heels. See balls and cock stepped on, kicked, squeezed, pulled and even punched. See our movies and see and hear the torture and the slave's crying and begging for mercy. The action is non stop, but the slaves have no choice but to take it. If cock & ball torture turns you on, this is the place for you!
Dominant transvestites near you
Real dominant transvestite Mistresses waiting for you. Do not be fooled by imitations. We are the real deal. An action-packed website with real T-girl domination pictures and movies. All original and exclusive content. Enjoy domination, humiliation, worship, feminisation and sissification. Anticipate so much more at the hands of real dominant transvestite Mistresses. These dommes will take you into a domination experience like no other before. Witness extensive and complete training, worship and humiliation sessions, detailed photographed to show every part of the slave's submission to their T-girl Mistresses with particular attention to all of the hard to find worship scenes.
Women who punish near me
All-female to male spanking and punishment. Strict women who take no crap from their men. No nonsense swift and real punishment dished out by disciplinarians who know how to hurt unruly men. It's all about women who love to punish men. They genuinely enjoy traditional discipline and correction of their males, such as a long hard no mercy spanking followed by corner time. The kind of spanking will make you unable to sit for about a week and teach you to obey her. Have you been a lazy student or a bad worker? It's time to change all that. You will be put over the knee and spanked until you learn to behave appropriately. The belt, the ruler, the cane and the bare hand will assure you become a perfect gentleman.
Smothering Dominatrix available
Do you like to see a perfectly shaped female behind descend on a guy's face flattening his face under her gorgeous ass? Then this site is for you. We have thousands of exclusive and original pictures of nonstop real facesitting and smothering under the hottest female asses. See guys begging to worship beautiful female asses. Watch their faces flattened by dominant women who demand worship. Guys can struggle to worship ass and pussy sitting on their faces and grinding down their face and nose. Complete your smothering experience in our movie theatres, where you can see all the smothering action up close on full screen. All forms of smothering, including foot & breast smothering!
Foot fetish divas near me
If you prefer a foot fetish Mistress, you will find plenty. Find Dominatrix covering all aspects of the foot fetish! See gorgeous girls teasing you with their sexy stockinged or bare feet and toes. These girls love feet and love to have guys at their feet. Whether you are into the softer side of the foot fetish or foot domination, we have thousands of pictures and movies guaranteed to satisfy your foot fetish needs. Foot worship, footjobs, trampling, foot domination, high heels, nylon and pantyhose feet. Plus, countless streaming movies are all 100% foot fetish movies covering all aspects of the fetish. Full-length movies streamed to you 24/7 at no extra cost. All movies have a sound that is high quality and viewable on full screen! If you like feet, look no further. Sadistic Mistress is the place for you! Free Clips and Mistress Movies and Phone Domination
Looking For A Hardsports Mistress?
If you're looking for a Mistress that offers complete toilet treatment in an utterly degrading and humiliating session, then we've put together a directory of the very best and most recommended professional Mistresses in the UK offering this service. So check out our guide and find your perfect hardsports Mistress.