Phone Domination Live
We now have some of the UK's finest Mistresses available to speak to you directly on our Phone Domination Live lines right now.
Award Winning British Mistress Phone Domination
Our award winning live phone domination chat lines are available to anyone in the United Kingdom to dial direct. If you are outside of the UK then that's okay, you can now call our sadistic British Mistresses using Skype! So, there really is no excuse!
We have created a unique opportunity for you to speak directly to a strict, dominant Mistress.
TALK LIVE TO A BRITISH MISTRESS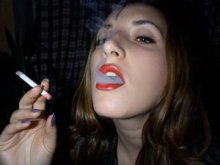 Ashtray Slave Session
Phone Domination
Yes, that's right, it's real life Skype phone domination.. You'll be thrilled to know that Skype now allows all of its customers to call our numbers direct from anywhere in the world. Just as long as you have calling credit you can go ahead and talk one to one for as long as you want to our British Mistresses and enjoy the humiliation, degradation and punishment these very explicit ladies dish out on a regular basis.
Phone Domination Stories
Here we have a selection of very exciting recorded fetish stories and sessions for you to enjoy...
Ashtray Slave Session:
Bend Over And Be Punished
CBT Session Recorded:
Mistress Tells You What She Does:
Gangbanged Sissy Whore
One Mistress, One Slave, One Strapon!
Tied, Teased and Denied
Tiny Dick Wankline (SPH):
Worship My Feet:
Worship My Pussy and Ass
Live Smoking Fetish Mistress
If you'd rather get in touch with a live Smoking fetish mistress then here is your chance and don't forget to enjoy our amazing smoking fetish movies too!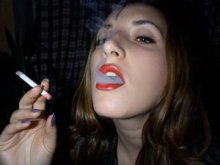 Call For A Superior Goddess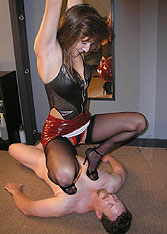 Welcome to this domination phone sex section of the website. These superior Godesses will welcome you when you call. Be very aware before you call that she will be taking complete control over your sexual urges and desires for the entire length of the phone call that you make to her.
There are rules, so always do as she asks because if you're good she will force you to do lots of naughty tasks for her. She loves it when you obey, so be sure to let her know that she is superior to you and always do what she says. Also, remember, she will dish out harsh punishment to those of you that don't follow her strict rules. So I say again, do as she says, then you'll be in for an extremely horny adventure that you aren't likely to forget for a long long time.
There are literally hundreds of operators who specialise in domination just waiting for you to phone them. We promise that these mistress's are some of the very best operators that are available. So if you are infatuated with the dark side of domination, the mistress will know what you want and exactly how to get you stiff and horny. I promise you, you'll be cumming within minutes.
The mistress, will no doubt, will completely and utterly dominate you throughout this entire phone call. You'd better be ready and pumped up for sex when you phone because you're going to have one hell of a time when you call this line. Just remember to play by the rules, and obey your mistress's sexual commands, then you can relish your much desired consequences.
There are literally hundreds of mistress's lined up waiting to take your phone calls. They're all very experienced and take great pleasure in dominating you via the phone. Their voices are hot, they are very sexually dominating and they know what to say and exactly how to say it to get you hot. So what are you waiting for, if you've read this far I suggest that you pick up the phone and call one of the hot mistress's. They're waiting for you now, so don't miss out.