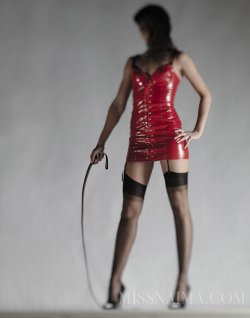 Profile Views: 3431
Brunette Mistress
BDSM Mistress
Slim Mistress
Tall Mistress
Ballbusting
BDSM
BDSM (giving)
Body Worship
Bondage
Breath Control
Caning
CBT
Domination
Face Sitting
Fetish
Foot Worship
Humiliation
Key Holding
Needle Play
Sissification
Spanking
Tie & Tease
Trampling
Whipping
Account ID: 4097
Last Login: 05-12-2014 00:41:51
Miss Naima
Age: 26 - 30
Nationality: Sweden
The name Naima stands for comfort in the meaning of a pleasant, delightful creature. But you will soon discover that I'm a pleasant young woman with a sadistic side, I love to see you suffer and crawl for me!
I have worked as a professional domina in Stockholm since 2010 but have been practicing bdsm in my private life for many years and I have ever since childhood been interested in BDSM. I am what is called a lifestyle domina, someone who have BDSM as a big interest in her life. I chose to take my interest to a professional level and start working with it because dominating is something I am very good at, I live it and there is a great need in Sweden for such a service.
One thing I learned early in my life is that to become really good at something, it is easier if you also think this i a really fun activity. My main interests whithin BDMS are Bondage, S&M and humiliation and its within these parts I have chosen to specialize. Of course very much can be included in these three parts, see more examples of what I can offer you at my webpage, but the starting point are always there. So if you have some interest whatsoever in masochistic games, you will love me!
During spring 2014 I moved to new premises in Stockholm (15 min with train from central station in Stockholm). My current studio is newly renovated with beautiful wooden floors, an open fireplace and fresh white walls. The interior have a medical feeling with plenty of opportunities for imaginative role play, sadistic games and bondage including a dentist chair, several cages designed by Miss Naima and a hospital bed. I also have a fresh shower for my clients and free parking for those arriving by car.
BDSM-Specialties
Ballbusting (not with intention to do serious damage, only as an extra spice to the game)
Bondage (f.ex. shibari, mumification, longterm-bondage, leather bondage, hoods, gags)
Breathcontrol (hand over mouth and nose, strangling, facesitting f.ex)
CBT (f.ex genital whipping, ballstretching, trampling, electroplay, urethraplay, needles, genital bondage)
Chasity-training
Disciplin-training (punishments and rewards, slave-training etc.)
Electro (tens, dog-collars etc)
Facesitting (safe, with clothes)
Fetisches as latex, lack, leather, shoes, nylon)
Fornofili (extreme objetification, act as furniture, doormat, feetbench etc)
Humiliation, physical and verbal in different forms
Medical play (needles/cannulas, urethra play, sonding, electro-treatment, medical gags. Of course hygien is extremely important for me and I have knowledge of anatomi and tecniques).
Messy/sploshing (humiliation with food, sticky messy things, sperm, water, saliva, forced eating and drinking)
Psykological domination (including mindgames, mindfucking)
Sadistic games
Spitting (as a part of a session or as main-topic)
Tease and denial
Trampling/Sitting (with or without shoes)
Whipping and spanking, corporal punishment (with cane, signalwhip, singletail, cat o nine, paddles, belts, brushes and shoehorn)
Worshipping-training (shoe or feet, hands, ass or person)
This is examples of what I offer, to see what I´m not offer, check my FAQ. One of the things I love working as a domina is to see and explore all the differences among my slaves. Do you have a special and maybe a little odd fetisch or dream you, feel free to tell me about this. If you are lucky it can be something that interests me too. I always love to try new things and like to be inspired by my slaves
Main location: Stockholm
| Time | Tribute |
| --- | --- |
| 1 hour | - |
| 2 hours | SEK 3500 |
| 3 hours | SEK 5000 |
| 4 hours | SEK 6500 |
| Overnight | - |
Other Mistresses You May Consider