Carmen Rivera German Mistress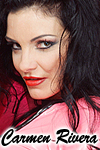 Carmen Rivera has the world by the balls. Much like the willing, leather-clad submissives, who gladly relinquish their self-governing capacities in her presence, Earth has tapped out, bowing in deference to this tall, raven-haired creatures every sexual whim.
Carmen's performances reflect her lust for life and her inclination to drain every drop out of life's chalice. Yet, Carmen's persona is one of contrasts. A photography devotee, former go-go dancer, and Penthouse model, this self-described wildcat relishes the searing delight of pain exploration almost as much as the great pleasure she derives from some of lifes more noble pursuits.
While Carmen loves the tranquillity of the sand and the ocean, she also feels quite at home in the dank sinfulness of a dungeon. While she enjoys introspective inquiries, she is outwardly bombastic towards flesh. And as a lover of all animals, she channels their primitive notions during her ritualistic, human bondage sessions. Carmens firm clutches hold a bounty of pain and pleasure in just the right amounts. Its time to surrender to her devious and delicious form of black magic.
Featured Carmen Rivera Movie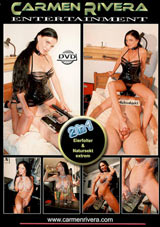 Eierfolter And Natursekt Extrem

Do you like wet, steamy fantasies?
Do you like seeing cum objects punished?
Carmen Rivera doesn't disappoint in Eierfolter And Natursekt Extrem!! >>

Starring: Carmen Rivera
Studio: Carmen Rivera Entertainment

Watch Now
Recommended Carmen Rivera Movies