Doamna Ezada Sinn, Bucharest, Romania
Location Information
Doamna Ezada Sinn is located in Bucharest, Romania.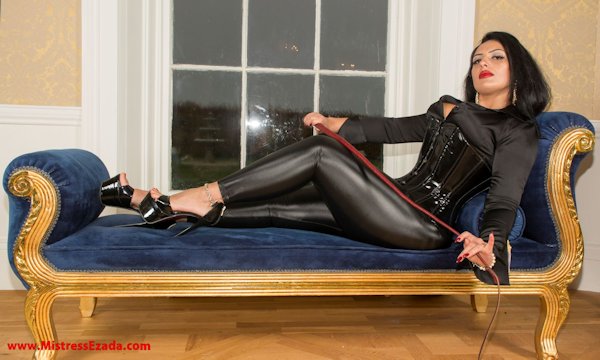 Interview with Doamna Ezada Sinn
Q: Mistress, would You kindly tell us a little about your background and how you became involved in Domination?
Doamna Ezada Sinn: Sure. I was born and brought up in a small town in Romania and then went to university in Bucharest. I had those dominant phantasies since I was a young girl, and my sexuality awoke. Seeing men suffer under my hands and feet has been arousing for me as long as I can think back, even though I did not know why that was at first.
My first serious contact with the professional BDSM scene came about in 2008 when I went to the OWK for filming. I was fascinated by this Femdom world, and the clips were a huge success. They are still out there for sale. From then on, everything developed quite fast.
Q: Mistress, what advice would you give to slaves who wish to serve you?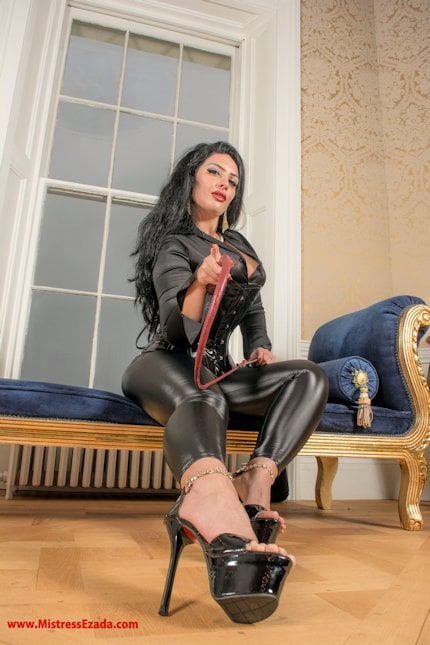 Doamna Ezada Sinn: Be attentive. Try to be helpful. Don´t concentrate on yourself but focus on the Mistress. What can you do for me? How can you be beneficial? Please don´t steal my time with lengthy written introductions but make sure and let me see that you have created yourself familiar with my works and thoughts that have been published by myself and by others about me.
Q: Mistress, what are your favourite types of sessions?
Doamna Ezada Sinn: That depends on my mood. I have so many kinky ideas and always like to explore new things so that no session is really like the other. There are, however, some preferences that accompany me from the beginning:
Of course, I always enjoy a classic whipping session when my whips take turns on the slave back until it is covered with red welts repeatedly.
Then humiliation is essential. It is the core of every session, degrading the slave, making him look, feel, act, finally really be pathetic. I love that it comes very good, especially in public.
Finally, Tease and Denial sure are another of my favourites. I like to bring a man close to the edge of release, keep him there for hours and then lock him away again in chastity. I´ve turned grown men into weeping little boys that way without any need to whip or slap them.
Q: Mistress, you seem to be very active with filming. What do you like better, the film or the session work?
Doamna Ezada Sinn: Well, there is not that much difference between the two. Filming a clip always is a session same time. And what I like about the filming is that it gives me the chance to show my work to the whole world and not keep it limited to the slave who happens to be there in that moment with me.
Q: Mistress, do you attend any clubs relating to BDSM/Fetish lifestyle?
Doamna Ezada Sinn: Sometimes I do but not that often. Recently I have been to quite some private parties that other Mistresses hosted. There we had some serious fun that went a good deal beyond what you can do in the more public environment of a famous fetish club.
Q: Mistress, What do you prefer to wear during sessions?
Doamna Ezada Sinn: Ah, once again, a variety of stuff. Momentarily my favourites are my new custom made leather boots produced according to my design and the fabulous stretch leather pants that I recently bought in Rome. I am also wearing that right now. Other than that, I am an absolute fan of corsets and own an entire collection of those.
Q: Mistress, please could you describe your style of dominance?
Doamna Ezada Sinn: Hmmm. Difficult question. I would say that I am very sensual yet at the same time also strict and cruel. If it goes well in a session, the slave will see and feel how I derive pleasure and arousal from the pain I inflict on him. By accepting the pain from my hands with an open mind and body, he will do his part to build that connection through which we will exchange energy that can become as powerful as heavy current.
Q: Mistress, do you also offer other services such as phone domination, email/online, training?
Doamna Ezada Sinn: Yes, I do, primarily online training. Long-distance chastity training is one of my specialities. It is incredible how far you can get with this and how tight can become the control over a man that might never even see me in person. Check my website for details.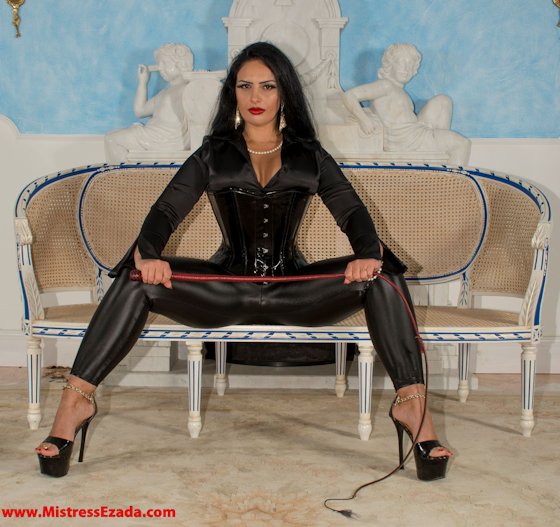 Q: Mistress, what are the things You most like and dislike in a slave?
Doamna Ezada Sinn: I like his obedience to me, his willingness to serve, to please, to pamper me. I love to see when a slave does overcome his inhibitions, not for his joy and satisfaction but mine. I hate selfishness, male posing, bragging, inattentiveness. I do not deal with such kinds of people.
Q: Mistress, what are Your favourite gifts from a slave?
Doamna Ezada Sinn: Ah, a girl can never have enough gifts, can she (laughs). It is not so much about the donation itself but more about the process of offering. I love to see when a slave has thought deeply about how to delight me. When he has listened carefully to my likes and dislikes and then comes up with something that I might have mentioned just, by the way, some time ago. I love to see him sacrificing for me. And there is a simple rule that does not only work with Dominas but basically with all women: You're hardly ever on the wrong side if you come with gold and fine jewellery.
Q: Mistress, could you tell us about any current projects?
Doamna Ezada Sinn: There are quite a few, but it is still too early to talk about some of them. I am currently preparing to move to Western Europe to be more flexible with my works and travel. Also, preparations have already started for my next Femdom Summer Camp, FSC#2, that I will host for a week in a villa in Southern Europe, presumably at the end of June 2015. Follow my blog for details and updates on that.
Then in May 2015, there will be special photo sessions with three wonderful other Mistresses in Stuttgart, Germany. I am very much looking forward to that but have to keep details confidential for the time being.
Q: Mistress, what advice would you give to a novice who has never visited a Mistress before?
Doamna Ezada Sinn: Take your heart in both hands and go there. Talk to her openly and honestly about your thoughts and fears, and limits. Do not pretend what you are not. Be polite and listen carefully. It is weird how often slaves break these simple, straightforward rules. Follow those rules, and things will most probably turn out just fine.
Q: Mistress, do You own any 24/7 slaves?
Doamna Ezada Sinn: Yes, I have a personal slave whom I own entirely. He lives for me. Then few collared slaves are allowed to see me regularly.
Q: Mistress, what about those slaves looking for a long term serious commitment of slavery to You. What would be Your requirements of such a slave?
Doamna Ezada Sinn: Currently, I am looking for no one. There was one place that became vacant recently, but that was taken quickly by a lucky successor. So I can only give general advice: The key is in usability. How can the person in question make my life easier, more prosperous, more joyful, more pleasant, more comfortable? In a spiritual and also in a conventional sense. Not just for an hour or two but constantly. There are only very few out there who finally prove to be worth it.
Q: Mistress, may You please tell us how we may obtain more details about you and how to serve you?
Doamna Ezada Sinn: This is easy. Turn to my website www.mistressezada.com. There you will find everything about me, my plans and projects and even much more. For real-time coverage, follow me on Twitter @Mistress_Ezada, and for my clips, have a look at my store on clips4sale.
Mistress, thank you very much for the interesting conversation.
Oh, my pleasure, thanks a lot for your questions.