Salon Kitty - A Profile
Salon Kitty - A Profile
Salon Kitty of Australia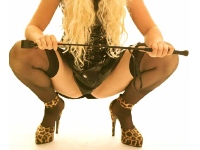 Salon Kitty's has a world wide reputation as Australia's leading Fantasy House.
Salon Kitty specialise in all styles of erotic fantasies, fetishes, bondage and discipline, all SM activities, cross-dressing, wrestling and most things which are considered to be a little different and unusual.
Their motto is "All unusual requests treated with respect."
The following is a brief list of just a few of the styles of sessions you can explore with Salon Kitty's fantastic dommes.
For the novice:
Fantasies
Erotic Tease
Bondage and Tease
Intro. Session.
For the Experienced:
Introduction
Latex
Slave Training
Equestrian
Cross Dressing
Mistress & Sub.
Lesbian Double
Wrestling
Other
Masters
Sub. males
Submissive females
Master Training
Light Submissive
Medium Sub.
Heavy Submissive
Examples of Activities
Discipline
Genital Bondage
Torture
Golden Shower
Humiliation
Anal Stimulation
Bondage and Tease
Basic Discipline
Naughty Boy
Intro. (light)
Intro. (slave)
Male Dom. (light)
Male Dom. (extra)
Where to find Salon Kitty's
310 Cleveland St., Surry Hills, Sydney, Australia One Kilometre from Sydney's Central Business District Usually less than $6 by taxi
How to contact by phone
Phone Salon Kitty's on (02) 9318 2477
International on +61 2 9318 2477
Mistress Amanda Dwyer on 0418 280846
How to arrange your session by email
Email details of your session and the Ladies you would like to meet
Snail mail: PO Box 380 Surry Hills, NSW, Australia, 2010 E-mail Mistress Amanda: [email protected] Fax: +61 2 9211 0960
To visit Salon Kitty's website and read more,
READ ANOTHER MISTRESS INTERVIEW