Lady Constanze of Munich
Lady C Munich profile getting to know Lady C Munich in an interview with Sadistic Mistress. This Lady has retired but you can capture her beauty here.
A Profile and Interview, Lady Constanze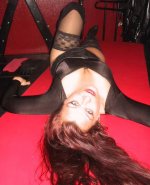 I'm strict but playful. When meeting for play for the first time, I like to know the taboos and limits of my new toy. Communication is the key to a good session. I'm interested in your fantasies and will give them my own little twist, but if you plan to hand me a script to follow word for word and be your fetish doll, then you better look somewhere else. A session that holds no surprises is simply boring. A good session just flows without following a rigid plan and I get my best Ideas while playing.
Location Information
Lady Constanze can be found most Saturdays and/or Sundays at the Studio Palais in Munich.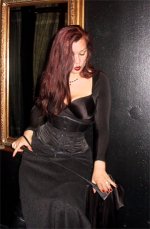 Mistress, may You kindly tell us a little about your background and how you became involved in Domination?
It started with a fascination for leather, boots and corsets. I remember even as a child I was always sniffing leather items and thought the scent was delicious and was very drawn to fashion and costumes that involved boots and corsets - particularly the old pirate movies...
Later on I started experimenting with a partner and was more drawn to the dominant role. A girl I went to university with had her own dungeon, I asked if I could train with her... I split up with my boyfriend after a few years, but my love for BDSM prevailed.
Mistress, what advise would you give to slaves who wish to serve you?
To be respectful, not just to show me the proper respect but also have the proper respect for himself. I always believed a good submissive is an ornament and has every reason to be proud, in a way he represents a Mistress and her training. I'm not a female supremacist, so I don't buy into the "Slaves and submissives are dirt under my feet" attitude, because without a bottom, how could I be a top? Without a masochist, how could I be a sadist and still play consensual?
Mistress, what are your favourite types of session?
That really depends a lot on the chemistry I have with a person. While I love roleplay, foot worship, TV training and all sorts of sensual sessions I love to wield a single tail and to play with a masochist, after all I'm a sensual sadist!
Personally I love both, soft and hard sessions, but when playing with a real masochist there is so much skill involved, concentration is incredably high, simply because so much more can go wrong if the Mistress is not skilled enough or doesn't pay enough attention.

After an intense session with a masochist I often feel more drained yet high at the same time, then when it was a fun session that is in the "lighter" arena, I get the same amount of enjoyment from both types of sessions, it just seems to come in a different form. I often wonder if the exhileration I get after a heavy SM session is a result of the intense focus I need to skillfully aplpy the torment as well as the personal fulfillment I receive in taking a sub deeper into subspace than they've gone before

Again, let me stress, nothing wrong with either type of session, I love the aspect about pro-domming most that I can have ALL different types of session, like being in a great restaurant and having the most tasty morsels without overeating.
Mistress, do you attend any clubs relating to BDSM/Fetish lifestyle?
I'm a member of several online boards and occasionally go to meetings, when I travel I always try to hook up with other people from the BDSM and Fetish scene. I find that the people genuinely interested in BDSM also tend to be very open minded and interesting!
Mistress, What do you prefer to wear during sessions?
I do have a leather and corset fetish, so leather and/or corsets would be my first choice, but I also like different outfits, especially when doing a role play! Bascially anything that enhanches the female form and helps to set the mood for a scene is great. After all it is nice to be able to seduce somebody to take more pain for you because he desires you...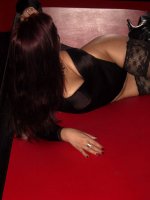 Mistress, please could you describe your style of dominance?
I like to call it "torture with a smile" because I'm not loud in a session, for me a loud, yelling Mistress is more a turn off, whenever I hear it, I always wonder if she needs to convince others and herself of her dominance. Loudness and bad manners are almost the antithesis of dominance for me. I love taking control. Somebody's submission and handing over control to me is a precious gift and certainly a resposibility that I take very seriously.
Mistress, do you also offer other services such as phone domination, email/online, training?
I do phone domination, but so far online and email training is reserved for people I know and have sessioned with. Giving orders on the net to somebody I don't know seems to be a bit stale...
Mistress, what advice would you give to a novice who has never visited a Mistress before?
Do your research, read up, make sure your interests are compatible, be respectful and communicate your expectations and fears clearly, be polite and on time and let her know that it is your first session!
Mistress, what are the things You most like and dislike in a slave?
I don't like to be handed a script and to be expected to work through something like a "laundry list", that is a real turn off for me. I like it when somebody is open minded and communicates his wishes and desires and more importantly his hard limits, but still allows me creative freedom.

Mistress, what are Your favourite gifts from a slave?
A gift is a pleasant surprise but nothing I would expect. Anything thoughtful is always appreciated, I'm flattered if somebody does go through the trouble to think about what would please me. It can be anything from a good book, to a bottle of wine, to a present from Northbound Leather.
While I enjoy gifts, I would be less than pleased if somebody would buy a present that he can't afford, the prize of a present is a lot less important than the spirit in which it was given! Some hand picked flowers will make me smile just as much as the biggest bunch of roses! In fact one of the most thoughtful presents ever was a cheese cake I got from a client in New York, we had discussed "weaknesses" and I mentioned cheese cake, I was touched that he remembered and paid so much attention.
Mistress, do You own any 24/7 slaves?
I have a different take on it, while I would say I do own one slave completely, it doesn't mean he is around me 24/7, he has his own life and his job commitments will always come first - however in his spare time he is on my beck and call, but it is up to me if I call him in for service or if I prefer to spend some time on my own!
Mistress, what about those slaves looking for a long term serious commitment of slavery to You. What would be Your requirements of such a slave?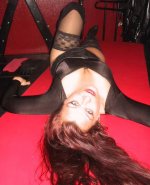 To be honest, quite a lot are looking for a fantasy and they don't really know what it means. There are also slaves that are far too demanding, if you want to be a slave, the wishes of your Mistress should be your main priority, not your own. Too many of them have this fantasy that they get tortured by a Mistress 24/7 - in ways they like. To collar somebody is a big responsibility and a serious commitment for both, I would never do it on a whim or in haste.

Mistress may You please tell us how we may find your web site?
The easiest way would be checking out my website at www.lady-constanze.com and then dropping me an email or giving me a call if you feel we are compatible. In general I'm seeing mostly regulars, so I'm usually always excited to get a chance to explore the limits of somebody new and establish a rapport with them.
>> READ ANOTHER MISTRESS INTERVIEW