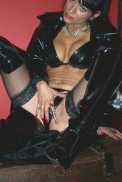 BDSM for myself is a liaison. A secret time and space where I can let my dark side roam free with you as my prey.
Eroticism and adventure await those entranced by my calling! Read My interview with Sadistic Mistress here.
Location Information
Mistress Dometria is based in Brighton, South East England. Located 5 minutes walk from Brighton railway station and from the town centre. If you come by car you should allow time to park in a busy city. The Brighton Dungeon is opposite the West Pier.
Contact Details
Mistress Dometria can be contacted by email (mistressdometria@yahoo.co.uk) or telephone (07961 833705).
Interview with Mistress Dometria of The Brighton Chambers
Mistress, may You kindly tell us a little about your background and how you became involved in Domination?
I am from a Greek/Cypriot background and I was brought up in London's East End. My father was a very strict and dominant character and I grew up in a very controlled and demanding environment.
Mistress, what advise would you give to slaves who wish to serve you?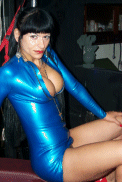 I really prefer to use the word 'submissives', or 'masochists'. All I demand it that I receive the same respect and good manners that I will give in return. I am a true sadist and I need proper submissives, or masochists in order to ply my trade.
Mistress, what are your favourite types of session?
I much prefer harsher sessions. A good ball whipping which results in blood sports, a judicial caning, or of course hard strapon play, for example.
I have no problem, however, with breaking in novices and I enjoy the virgin submissive.

Mistress, do you attend any clubs relating to BDSM/Fetish lifestyle?
Yes I do, The Brighton Dungeon actively supports a local fetish party run by Inner Spirit and I am also in the process of arranging my own fetish party in a club in Brighton.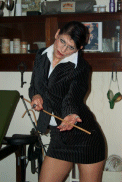 Mistress, What do you prefer to wear during sessions?
I much prefer PVC, or latex and I like to be dressed, but not 'over dressed'.
I find bearing a bit of flesh helps my submissives take their minds off the pain I am inflicting on them.

Mistress, please could you describe your style of dominance?
I am a true sadist and I make no excuses, or apologies for what I do. I like to control a submissive's mind and then abuse his body. Inflicting pain on someone is what I enjoy, but most of all I enjoy controlling someone's thought and mind.
Mistress, do you also offer other services such as phone domination, email/online, training?
I do offer phone domination and I am considering offering online training. I also make and sell dungeon-made DVDs.
Mistress, what are the things You most like and dislike in a slave?
I like a submissive to come down here with an open mind and be prepared for something new. I do not like working to a script, or to some big game plan. You will get the most out of me by being open minded and by allowing me to use you as I see fit.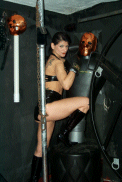 Mistress, what are Your favourite gifts from a slave?
I am not really into the 'wish-list' bullshit that some Mistresses try and screw out of their submissives.
If you want to show me your appreciation I am into BDSM and like anything associated with it. Try and surprise me by being 'original'.
Mistress, what advice would you give to a novice who has never visited a Mistress before?
As I have said, try and keep an open mind and don't be too demanding, talk too much, or pressurise me. Trust in me and you will be surprised at what you find.
Mistress, do You own any 24/7 slaves?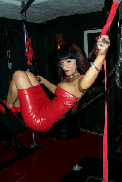 I have a whole book full of 24/7 slaves, but Mistress hasn't yet found one that merits full ownership.
I don't compromise and if you want to be owned by me you will have to show me that you are worthy of such a privilege.
Mistress, what about those slaves looking for a long term serious commitment of slavery to You. What would be Your requirements of such a slave?
I require complete obedience and servitude. Many submissives have this fantasy, but very few have what it takes to turn it into reality.

Mistress may You please tell us how we may find your web site?
You should start by checking out her website here or www.brightondungeon.com It is more detailed than most. Once you have dome this you are welcome to call me on 07961 833705.
READ ANOTHER MISTRESS INTERVIEW