Mistress Georgia of Los Angeles
A Profile and Interview featuring Mistress Georgia.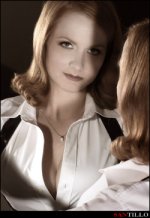 Location Information
I am a Los Angeles based Professional Dominant that focuses on counseling and training for slaves and couples interested in exploring various aspects of BDSM.
Interview with Mistress Georgia of Los Angeles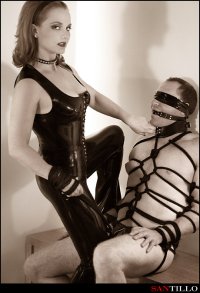 Q: Mistress, would You kindly tell us a little about your background and how you became involved in Domination?
A: I have dominated men on some level My entire life. I grew up in the south, so there really wasn't a name for it that I knew of. When I ventured off to college in New York, I ended up doing a "Sexâ€Â paper in class and wrote specifically about BDSM (at that point, I had an idea that this world did indeed exist.)
I went into the city and interviewed various Pro-Dommes and found them to be really inspiring women and their way of life was so different than anything I had ever seen! I requested to do cameos and I was a complete natural! After I graduated school, I went to one of the houses and asked if I could work there –the rest is history. The lifestyle is a part of who I am, and when it is time for Me to retire, it will always be an active part of My personal life.
Q: Where are you doing sessions and what kind of equipment do you have?
A: I do sessions in downtown Los Angeles. The space offers two fully equipped dungeons with overhead suspension, swing, cage, horse, bondage table and rack. I have tons of toys from leather hoods, body bags, cross dressing clothes, and various restraints to a large assortment of electrical equipment. I have pretty much everything!
Q: Do you travel for sessions or do outcalls?
A: I do travel for sessions, if I have the time. I often go back to New York to play with My stable so I would say that I am somewhat bi-coastal. In regards to outcalls, I do them on occasion. I prefer My play space because I have so many toys at My fingertips. It really just depends on the situation.
Q: Do you do extended sessions?
A: Most of My sessions are a minimum of 2 hours. That really gives Me time to get in there. And yes, I do extended sessions. I have done 24 hour, weekend, and weeklong sessions and find them to be highly desirable. I will not do that sort of a session with just anyone though. We have to have a strong rapport for Me to spend that kind of time and energy.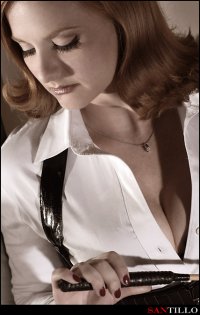 Q: Mistress, what advice would you give to slaves who wish to serve you?
A: I require respect of My time above all and I do not tolerate topping from the bottom. I am always looking out for intense chemistry and compatibility in a slave. I want a slave that has the same agenda –one that really wants to go on the journey -one that is looking for that endorphin high… I want to go on that ride. I want to explore that fine line…
Q: Mistress, what are your favorite types of session?
A: Cross-dressing/forced femme, inescapable bondage, CBT & NT, domestic discipline (spanking, caning, hair brush, and the strap) edge play (breath control, piercing, electrical) are among My favorites.
Q: Mistress, what types of sessions are you not into?
A: I am not into infantilism, puppy play, scat or any exchange of bodily fluids, smothering, wrestling or body worship.
Q: Mistress, do you attend any clubs relating to BDSM/Fetish lifestyle?
A: I go to lifestyle parties here in Los Angeles. I am not really into the pro play party scene.
Q: Mistress, What do you prefer to wear during sessions?
A: I mostly prefer domestic blouse/skirt or corset/skirt attire or latex –I love dressing like a super hero!
Q: Mistress, please could you describe your style of dominance?
A: I am not into yelling, that is for sure. I prefer to use the fact that I am a woman to get what I want. I would rather communicate with a look or a whisper. I like to utilize all senses to get My point across: taste, touch, sound, smell, and sight. I use all of those delightful tools to communicate.
Q: Mistress, do you also offer other services such as phone domination, Email/online, training?
A: I have to admit that I do not like it. For play, I prefer real time in person action. It is hard for Me to get into a session with distance between the slave and Me. However, I do email and phone counseling for men/women/couples. Playing and counseling are two totally different activities.
Q: Mistress, what are the things You most like and dislike in a slave?
A: I like slaves that are willing to let go. They will really get something out of a scene with Me if they trust Me and let Me guide them. I do not like scripted scenes and I do not like slaves that chatter. So much more can be said by a look or a touch. Don't waste My time.
Q: Mistress, what are Your favorite gifts from a slave?
A: I like shopping with a slave. Sometimes shopping can also be a session of sorts. For example, I will take My foot slave shopping with Me for shoes. I will make him assist Me instead of the clerk. So, gifts with a story or shared experience are My favorite types of gifts.
Q: Mistress, what advice would you give to a novice who has never visited a Mistress before?
A: Do your homework! If a slave goes to a Mistress that hasn't been around for a while, he is taking his chances that she isn't going to have the experience or know how to direct the session. Also, detail your thoughts and desires. Give a Mistress as much information as you can. The more that she knows about you, the easier it is to get into your head.
Q: Mistress, what about those slaves looking for a long term serious commitment of slavery to You. What would be Your requirements of such a slave?
A: One must bide their time. Serious long-term slavery comes naturally to those that serve consistently and continue to please. One that really opens up and allows the scenes to flow. When a Mistress is getting a lot out of a session and there is a real power exchange going on, the commitment becomes inevitable.
Q: Mistress, tell us what is new in Your world –what you would like for us to know about you.
A: I have started doing Sex is Fun workshops all over the United States. I am really getting into teaching couples how to really share their secret fantasies and act them out! Confidence and trust is key, so My workshops are geared towards giving couples the tools to do just that.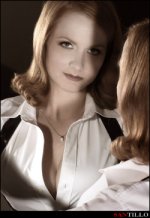 Q: Mistress, you recently authored a book, how did you get the inspiration and what is it about?
A: I recently authored a book called "How to Be a Dominant Diva. This book focuses on women taking control of their pleasure from the boardroom to the bedroom. Dominant Diva serves up 69 sex games that explore the psychology of S/M without the whips and chains. I really wanted to bridge the gap between S/M and the vanilla world. I think that the scene has something to offer everyone, whether is role-play or power exchange. We all know that the mind is the biggest sex organ, and certain aspects of BDSM really recognize and uses that knowledge. I wanted that to translate to couples that enjoy vanilla sex in a way to really shake things up!