Mistress HEELena of London
Mistress Heelena London mistress interview featuringnever before told information relating to this gorgeous Domina
A Profile and Interview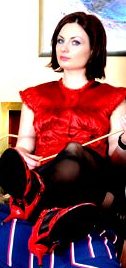 Interview with Mistress HEELena of London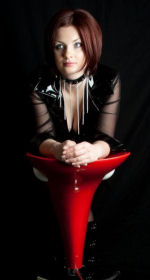 Q: Mistress, would You kindly tell us a little about your background and how you became involved in Domination?
A: I always had a kinky open mind but I never had the opportunity to practice BDSM in my relationships. Then it all happened by sheer coincidence I met the right people at the right time and decided this is the right thing for me. I have never been happier as this is the first occupation that allows me to be myself. It's extremely rewarding and I feel appreciated - similarly as a therapist would do!
Q: Mistress, what advice would you give to slaves who wish to serve you?
A: Be polite, straightforward, open-minded, flexible, grateful and generous.
Q: Mistress, what are your favourite types of session?
A: Undoubtedly foot worship or foot domination, however, I like variety and I relish in spanking asses and slapping faces! I love to tease with my feet, and having my cock (strap-on) sucked deep throat!
Q: Mistress, do you attend any clubs relating to BDSM/Fetish lifestyle?
A: I have been to many clubs in the UK my favourite being Club Pedestal (the only femdomme club in London) simply because I do not appreciate overly confident, unattractive and sadistic masters smirking at me while their female subs kiss their dirty boots! Unfortunately this is the case in most fetish clubs that do not strictly require all attending men to be submissive.
Q: Mistress, What do you prefer to wear during sessions?
A: I prefer to wear smart or casual outfits as I prefer to be comfortable. I do wear fetish outfits when requested though. And HEELs, not to forget!
Q: Mistress, please could you describe your style of dominance?
A: This varies depending on the victim's requests and our chemistry I like to mock, tease, seduce, play with the mind and body and laugh a lot! Usually I am simultaneously nasty and nice and I love the effect it has on my slaves.
Q: Mistress, do you also indulge in other activities such as phone domination, email/online, training?
A: Forget it.
Q: Mistress, what are the things you most like and dislike in a slave?
A: arrogance, ignorance, stubbornness, selfishness, stinginess
Q: Mistress, many subs are interested in toilet training and it's always a hot topic for discussion. What are your view on this?
A: I have better things to do than toilet train slaves or even discuss it. Most of them don't have the balls to experience it anyway it's all talk!
Q: Mistress, what are your favourite gifts from a slave?
A: I like to choose gifts myself - the best are store cards, charity credit cards, charity donations, vouchers. See my WISHLIST (http://www.domina-HEELena.com/?page=wishlist) for more details.
Q: Mistress, what advice would you give to a novice who has never visited a Mistress before?
A: Do as Mistress says and do not irritate her with inane questions. Choose carefully. Surrender your mind and body to her and embark on a journey. You will not enjoy your session if you are nervous or tense.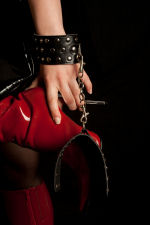 Q: Mistress, do you own any 24/7 slaves?
A: I am not interested to have close relationships with any pathetic and useless slaves. I have tried to make slaves useful in the past realizing that most are childlike attention seekers craving mothers.
Q: Mistress, what about those slaves looking for a long term serious commitment of slavery to you. What would be your requirements of such a slave?
A: If I ever decide to accept slaves they will have to be generous and sponsor me financially. There is no other alternative.
Q: Mistress may you please tell us how we may obtain more details about you and how to serve you?
A: Visit my websites: www.domina-HEELena.com