Mistress Julia Pink of Bolton, North Manchester
A Profile and Interview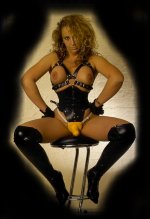 My new, larger Chambers are in Bolton, North Manchester and include a selection of playrooms and all sorts of new equipment as well as the traditional. They are located just off the motorway and easily accessible from all directions - Leeds, Liverpool or Preston.

There is private, secure parking outside.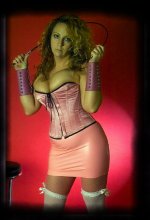 I am available for appointments from Monday to Friday, 11.00am until early evening.

Or you can phone for an appointment on 07981 136445 or on 01204 796647. Please be aware a male receptionist might answer at times.

You can also make a booking or enquiry by email

Expect the answer to be brief. I do not do virtual domination so, if I've said 'Yes' to your application, don't expect Me to enter into any more discussion with you until we have our consultation before your session begins.
Interview with Mistress Julia Pink of Bolton
Q: Mistress, would You kindly tell us a little about your background and how you became involved in Domination?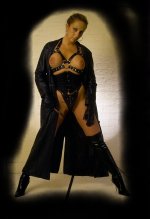 A: I had a rather unusual childhood which led to a unconventional adult life. I could never see the point of most rules, so broke them. I could never obey orders, so have always been self-employed. I travelled the world, experienced all the things I was warned about and never, ever felt I belonged anywhere. I was very successfully unconventional and I couldn't see the point of most people and didn't understand how they could live such boring, methodical, predictable lives. Why?
Yet they were happy and I wasn't.
When I met a man who, one day out of the blue, said he wanted to be treated like a slave and humiliated I took to it like a duck to water. When I discovered the BDSM scene it was like coming home. I finally found somewhere that I belonged, that spoke my language, that I understood.
Q: Mistress, what advise would you give to slaves who wish to serve you?
A: Don't expect the traditional Mistress! I still like to break all the rules (hence the Pink in my name) Make sure you want a real Domme, not a woman who can be paid to wear your fantasy clothes and perform your fantasy scene as ordered. Respect me at all times.
Q: Mistress, what are your favourite types of session?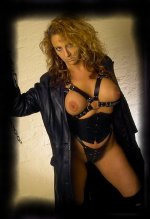 A: Any that I'm controlling fully. But I do like SM. There are very few true masochists out there and my heart always leaps when one of mine comes in for a session. The challenge of continually stretching the limits of a masochist who can't be marked is always of major interest to me.
Q: Mistress, do you attend any clubs relating to BDSM/Fetish lifestyle?
A: Yes. I go to Nemesis, Consent, The Alternative, Lash, Friday Fetish and I've been in the past to the Realm, The Club and sometimes the Manchester Munches.
Q: Mistress, What do you prefer to wear during sessions?
A: I really don't mind. It depends on the session or what mood I'm in. I have a wide selection of clothes and footwear to choose from.
Q: Mistress, please could you describe your style of dominance?
A: Strong. Sadistic. Sensual. Playful. Frightening. Again it can depend on my mood and the session.
Q: Mistress, do you also offer other services such as, phone domination, email/online, training?
A: I should be offering phone domination very shortly.
Q: Mistress, what are the things You most like and dislike in a slave?
A: I like character, humour and honesty. I like slaves I can talk to out of session. I don't like slaves who can only say 'Yes Mistress' no matter what I say.
Q: Mistress, what are Your favourite gifts from a slave?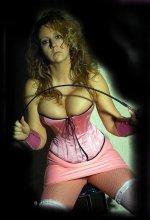 A: Anything. A gift shows thoughtfulness. The only thing I don't like receiving is wine, champagne etc as I never drink alcohol so it is wasted. Cigarettes are good. Oh, and a Mercedes would be nice......
Q: Mistress, what advice would you give to a novice who has never visited a Mistress before?
A: Shop around. Every Mistress has a different style and it may take some time to find one that suits you.
Don't let a poor experience put you off.
If you're nervous write down your thoughts on paper beforehand and give them to the Mistress. This way you won't forget to include any vital likes, dislikes or medical issues if you get tongue tied in the consultation.
Q: Mistress, do You own any 24/7 slaves?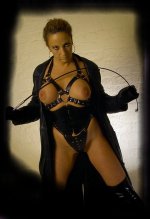 A: One of my subs is living with me at the moment and I own two slaves but it's not 24/7. I've tried it in the past but unfortunately it didn't work out. I'd like to try again some time in the future though.
Q: Mistress, what about those slaves looking for a long term serious commitment of slavery to You. What would be Your requirements of such a slave?
A: That really depends on each individual slave and what, if any, their pre-existing commitments are.
>>READ ANOTHER MISTRESS INTERVIEW