Mistress Julia Taylor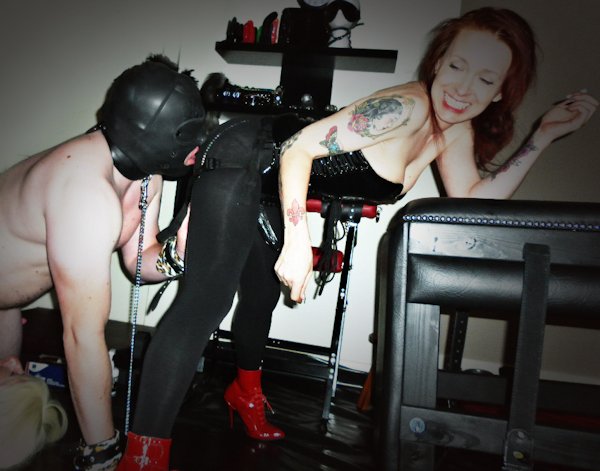 Q: Mistress, would You kindly tell us a little about your background and how you became involved in Domination?
A: Happily my dear.
I am now able to boast 20 yrs experience within the adult industry. Officially starting at the tender age of 18, although my leaning towards being a dominant female began as early as I can remember! I spent my childhood yearning after strong, powerful woman as well as a huge passion of the androgynous look. Annie Lennox was a woman I spent many hours studying and drooling over as a young girl.
I honestly feel I was born for this, excuse me sounding to wet! hahahaha
Once within the Adult Industry accessing Pro Doms was not difficult and I finally found a magnificent red haired, petite, Irish Pro/Lifestyle Dom who was prepared to take me under her wing for two of the most exciting years. I spent day after day, week after week within her tremendous domain.
I am finally, after many years of soul searching & discovering who I am, able to now build my own personal domain, where I can be the true Goddess I was born to be.
Q: Mistress, what advise would you give to slaves who wish to serve you?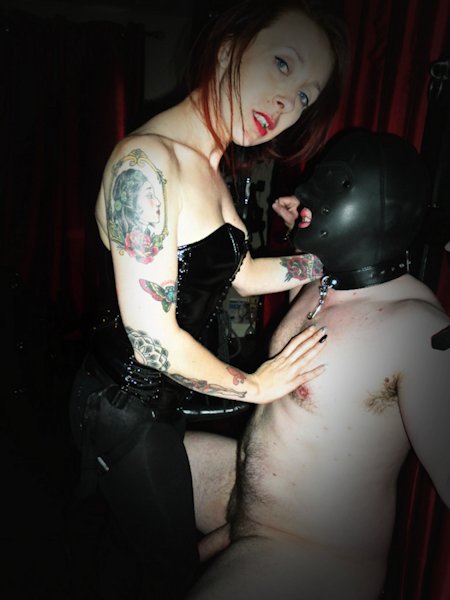 A:With my relocation to my 'House Of Sin' new house protocol will be put into place as well as a new system to deal with my ever growing family of Slaves. The title of 'Slave' is indeed an honour and as such shall ONLY be given to the worthiest of applicants.
Those who wish to be blessed with this title at my House Of Sin are to follow my Etiquette (available on my website). If followed correctly they may then be granted an audience and the opportunity to serve me, in many many wonderful ways.
If I/we then decided to begin our journey into the deepest corners of our minds, this is when they shall be issued with an idividual HoS number. This number is now your new name for the duration of your probationary period. I and I alone decided if & when you have served your period of probation, if you are indeed worthy of me granting you the most honourable title of 'HoS Slave' or you are dismissed, classed as 'Unworthy'.
Those that serve well, follow house protocol and prove their worth shall be then invited to their initiation ceremony.
I have two bandings of Slaves, contracted & un-contracted, details of the differences are available to those fortunate enough of being in that position.
Q Mistress, what are your favourite types of session?
A: My favourite session is not described by the fetish or activity, what gives me my perfect session is one where my chosen play thing is open, honest, communicative & responsive! These four things allow me the opportunity to free our energy, letting it to take over and reveal the most exquisite of times.
Q: Mistress, do you attend any clubs relating to BDSM/Fetish lifestyle?
A:I adore the BBB Fetish Market & have plans to attend the next Telford Munch. With such a busy period my attendance has dropped slightly, once my HoS is more settled I hope to be a face regularly seen in the West Midlands Fetish World.
Q: Mistress, What do you prefer to wear during sessions?
A:This again varies from day to day. As all human beings I am indeed complex and multifaceted. There for being slightly different every single day. With an extensive wardrobe already it is however growing in size constantly.
It is rather evident however I have a large passion for anything vintage, my love of Latex is now going to have somewhere for it to grow, plus I wish to start to include a more Military theme to my wardrobe & sessions.

Q: Mistress, please could you describe your style of dominance?
A:I know I indeed have a way about me, this is told to me on a regular basis. I am not two people in this petite slender body, so the female you meet in session, is indeed the truth of who I am.
I would say there is an honestly & gentleness to my style, this however does not ever remove of detract from that large streak of sadisim that runs through me. I just enjoy mine with out shouting and the use of profanities (Please note, I have no issuing using them but please do request this on your application). I much prefer to be close to my submissive, holding them gently, running my sharp nails across their flesh as I breath closely in their ear, whispering how they are to be dealt with. Softly with love in my voice! I enjoy the caring yet evil glint in my eyes as I torture my subs & slaves.
Q: Mistress, do you also offer other services such as phone domination, email/online, training?
A:Indeed I do. I have been able to spend less time on these with moving, however I intend to become much more available by alternative means once settled in.
Q: Mistress, what are Your favourite gifts from a slave?
A: Firstly flower! I adore flowers! Flowers, Perfume & Shoes, a lady can never have enough of these items. My most adoring slave would indeed gift me with my my dream car! Mercedes AMG, I am not to concerned which one as house room would be given to any
Q: Mistress, what advice would you give to a novice who has never visited a Mistress before?
A:Ensure you research your Mistress before contacting her, follow her rules/etiquette to the T!. This should allow you safe passage.
Q: Mistress, do You own any 24/7 slaves?
A: Yes my dear I do indeed, however being a realistic we all have our day to day lives to continue with. One of the most important aspects of what I offer is complete discretion. Every ones limits are respected, and your journey is given the opportunity to unfold with out effecting your day in & day out life.
Q: Mistress, what about those slaves looking for a long term serious commitment of slavery to You. What would be Your requirements of such a slave
A:For a long term slave it is necessary to earn your slave title at my House Of Sin. If you are worthy of this, you may then be offered the opportunity to be contracted.
Those who would like this option should state as such in their application once again.
Q: Mistress may You please tell us how we may obtain more details about you and how to serve you?
A:I have a website & blog that you may indeed access. These link to further various websites where you are able to gain a snap shot of my world via writings, images & video footage. I also use my twitter account on a regular basis and find this is a fabulous way of keeping my subs, slaves and sissies up to date on my fun & frolics.
>>READ ANOTHER MISTRESS INTERVIEW