Mistress Miranda - London
SKILLED PROFESSIONAL BDSM ARTIST FOR 9 YEARS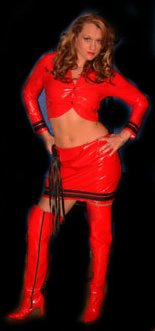 Mistress Miranda is 30 years old, 5 foot 10 inches without shoes, size 12 clothes shoe size 7. A professional dominatrix for over 10 years (although her interests span a longer time frame).

Since a young age she has had an interest in domination, and experimented with bondage as a teenager. As her interests expanded, she began playing in a semi professional level whilst at university. After graduating, and succeeding in getting a job in the field that she had trained in she realised that the area which she excelled in and most enjoyed was BDSM.
Mistress Miranda:
"I never feel like I'm working and I look forward to each of my sessions as everyone is different. My day is never predictable or boring and the people I meet make my life fulfilled. Many I consider personal friends.
For me a session is both serious and rewarding. I enjoy pushing people and watching the response. Playing is great stress relief and can leave you elated for days. The services I do not offer are those I do not enjoy and therefore will not cater for. Generally my specialities include, Heavy bondage, electro-stim, anal training, Pain without marks, accurate CP, Rubber bondage boot worship and scenarios."
Credit cards accepted at prior arrangement.
Interview with Mistress Miranda
Mistress, may You kindly tell us a little about your background and how you became involved in Domination?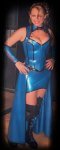 I am 30 years old and have been a professional domme since I was 21 although my interests in BDSM have spanned much longer that that, albeit in a more limited way. I have always been drawn to fetish imagery from a young age, and in my early teens experimented with ropes and mild bondage. I first had my taste at a professional level at 21, when I took the plunge and tried offering a visiting domination service, carrying my bag of essentials in a small suitcase where ever I went.
Most of the services I offered were more along the lines of the traditional view of Mistress, offering humiliation, boot worship and punishment and I have obviously come a long way from there. As I am totally self taught, I have always done what felt right and I was never sure what I was doing was the norm.
I knew the way I enjoyed playing, but I didnt know if that was the way in which other dommes sessioned. However, I quickly realised that there was a demand for what I was offering and I then dreamed of having my own dungeon. I did consider working in an established dungeon but I felt that wasnt the route for me. I decided to set myself up, but not knowing if people would then visit me.
So in 1997 I converted a flat and then havent looked back since. I now a large and well stocked dungeon with 3 Playrooms catering for many fetish services.
Mistress, what advise would you give to slaves who wish to serve you?
Apart from the general golden rules of hygiene, politeness and punctuality it is important to me that whether you are a newbie or an experienced player, that you communicate your needs/likes effectively and state any limits or problems you may have prior to the session starting.
I do not believe that discussing the general flavour of the session is topping from the bottom as I always put my own spin on things and change what has been requested, even if the general theme/ flavour is there. A session is and should be mutually enjoyable and for it to flow well, you need to have a certain level of trust so that boundaries can be tested and experiences expanded. Ideally come with an open mind, and be willing to try new things as this is the key to keeping sessions fresh.
Mistress, what are your favourite types of session?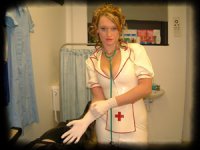 This is a difficult one, as I enjoy what I do and it is really the players who make it special. I am a great believer in playing/sessioning being a two way experience, so communication is the initial starting area to build on. I enjoy a session that flows well, where ideas have been brought forward where I can build on and adapt.
I always try to do something a little different each time, so it keeps the play fresh e.g I recently introduced a newbie to electro- therapy for the first time and despite a few intital reservations the experience went really well and future sessions for this player have really developed from here. So when there is a two way connection in my play I get a real buzz from that. To know I can control and build sensations, to push limits and look into my subs eye with a wicked grin on my face of genuine satisfaction, then there is no better feeling in the world for me.
Mistress, do you attend any clubs relating to BDSM/Fetish lifestyle?
Well to be honest yes and no. I have attended clubs in the past and I do occasionally go to the fetish Fairs, Rubber ball etc but I must say that I dont attend particular clubs on a regular basis.
I am however sessioning through the week and I feel that I get more than my share of BDSM enjoyment but if I still enjoy the occasional visit to a scene event when I can.
Mistress, What do you prefer to wear during sessions?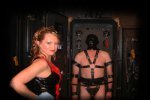 I have an extensive fetish wardrobe including rubber, leather, pvc, metal, corsetry etc and what I wear depends on the day and how I feel. I have many unique rubber garments that are made to measure, e.g. rubber Victorian costume, military, to name a few as well as specific role play outfits such as nurse, head mistress, nun, interrogator plus different fetish outfits i.e skirts, dresses.
What I wear may determine the session so if it is integral to the scenario, I may wear a certain outfit. I tend not to take requests on clothing, although preferences my be expressed they are not guaranteed. I wear something different every day and tend to change throughout the day to suit my needs. For this reason. I am always guaranteed to be wearing fetish wear and also boots as I am an avid collector of these. My latest addition is some thigh high leather boots made to measure which I designed.
Mistress, please could you describe your style of dominance?
Initially my style was of a strict disciplinarian, but now Id say Im more of a sadist with a smile. The clients that I see are not usually into strict verbal role-play, (although I will still happily cater for this). I have found for me the people I session with are those who submit to me without the need for heavy insults, and as I have fun and enjoy what Im doing and I take control by getting into the mind of my sub by more of a gentle coercive means. Dont be any doubt though, I always get my way but I dont feel that I need to shout to do it.
Mistress, do you also offer other services such as phone domination, email/online, training?
As I take credit card payments, I can indeed offer e-mail or phone training. I have not listed it on my site as to be honest with you I havent really had any call for it. Weather that would change if I did include that in my site I dont know, but should anybody require something that isnt listed it is always worth dropping me an e-mail to outline your request and I may then be able to help.
Mistress, what are the things You most like and dislike in a slave?
Apart from the breaking the Golden rules stated earlier (hygiene etc), I think the worse thing in a slave is not communicating properly. I do understand that visiting a domme for the first time may be daunting, but this is why e-mails or phone bookings are such an excellent tool for ironing out any concerns or questions you may have. Not communicating also includes not phoning if you are running late, or not calling at the right time to confirm as this may mean you loose your slot.
lying about experiences e.g I have never cross-dressed: but why can you walk in heels better than me?? Lol Your experience or lack of is usually apparent, so why lie about it. I can never understand that one. It makes me uncomfortable about a slave from the word go if I believe I am being lied to.
Bad manners. I expect my premises to be treated with respect and a pet hate is finding a new sub having a good nose around through my things without me being there, or asking to be shown. I am happy to show or demonstrate any piece of equipment but you wouldnt visit a friend and go through there things, so why think you can do this to my place.
Too much communication. This doesnt happen too often, but I always have a discussion before the session starts, so trying to top from the bottom when the session has started is a pet hate of mine. If there is a problem, then I always issue a safe word, but midway into a session trying to dictate to me what you have and when is a no no.
Mistress, what are Your favourite gifts from a slave?
I never expect gifts from a sub, so when I receive them I am genuinely touched that a sub has brought me something. I am as pleased to receive both something for personal use or something for my playrooms.
My wish list on my site is mainly tongue in cheek (as those who know me and my sense of fun will understand) ,but as I update the site I will probably tone this down to a more sensible level and list only a few items. I enjoy receiving perfume, Alcohol particularly Baileys, Boots in size 6half to 7, clothing; in fact anything really as it is always a surprise and a joy.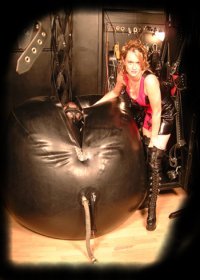 Mistress, what advice would you give to a novice who has never visited a Mistress before?
Firstly, decide on what fetish interests you have and want to start in and would be comfortable with, and then look for a mistress specifically suited to those needs. If you have any hard limits (whether it is health restraints or personal choice) then discuss your concerns straight away.
Dont be afraid that you will be frowned upon or laughed at as any Mistress worth her salt wouldnt do that. What you have asked for has probably been requested many times before, and if there is something that you are embarrassed about asking, dont be. Do be honest and say that it is your first session, as you will then be led through slowly. Im thrilled when a new sub comes to me, as I feel like I am opening up a box for my sub into a new world of experiences. If your first session doesnt go as planned, ask yourself why, and try to address this on future session.
Mistress, do You own any 24/7 slaves?
I do have some contract slaves, as well as some that I consider great friends who cross over into my personal life. I am both the keyholder and sole player to some, and those to which I am Mistress, would ask permission to play elsewhere. If this is considered ownership then yes I do have subs that fall into this category.
I do not demand exclusiveness, but if my sub offers himself up on contract and I consider the bond a genuine one then I will accept the contract and co-sign. But however, I do not require a contract to bind a slave to me as my bonds transcend the written word.
Mistress, what about those slaves looking for a long term serious commitment of slavery to You, what would be Your requirements of such a slave?
For me, those looking for long term commitment would be Communicative and respectful. I also prefer regular attendance to build on experiences and levels. I like subs to offer feedback and give across any ideas as I usually take them and twist them in my own unique way. Also another important quality is having an open mind and trust.
Mistress may You please tell us how we may find your web site?
Since I have relocated, and revamped my playrooms, the pictures on my site are a bit out of date, I am in the process of updating it but the general information on the site is still correct; what is missing is the photographs of the new and improved play space that I have. So keep an eye on my site www.thebondagemistress.co.uk which will be updated soon.
>>READ ANOTHER MISTRESS INTERVIEW