Mistress Simone Interview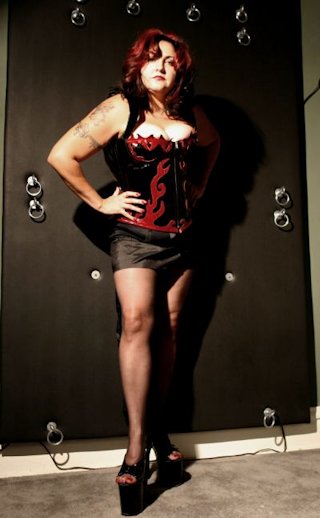 Q: Mistress, would You kindly tell us a little about your background and how you became involved in Domination?
A: I have been a practicing kinkster since age 15 when I tied up my first boy. Back then we did not have labels for what we were doing. In my early twenties I was running a Chicago fetish store where many of my customers were the local dominatrices. We would have fun dressing their clients and humiliating them while the ladies shopped. I ended up with some great corsets that way.One of them stated I would be good as a professional and should consider it. One thing lead to another and here we are 20 years later.
Q: Mistress, what advise would you give to slaves who wish to serve you?
A: Be sincere in your desire to serve. Communicate honestly with your Mistress about your desire to serve and fetishes interested in. Be real. Have a personality, I find intelligence and humour attractive.Do not be a floormat.
Q: Mistress, what are your favourite types of session?
A: Those that develop a connection between myself and the submissive. Where the session flows naturally for us both and we do not realize how much time has passed as we enjoy our mutual fetishism.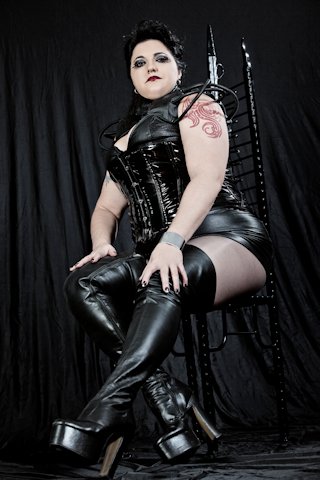 Q: Mistress, do you attend any clubs relating to BDSM/Fetish lifestyle?
A:I no longer attend many BDSM clubs as I ran one for 8 yrs in Chicago. I do attend national leather events regularly as I am a BDSM educator. I also run the Chicago branch of ClubFEM, the oldest nationwide besides Texas.
Q: Mistress, What do you prefer to wear during sessions?
A: I love traditional leather Mistress attire from gloves ,skirts, corsets to thigh hi boots. Stilettos are a fav. I am most definitely a shoe whore. When I started as a domme,latex was harder to come by and more expensive
so we did not wear it as much. There were certainly not the vibrant colors there are now available. As a result, I have discovered my love for this material as well.
Q: Mistress, please could you describe your style of dominance?
A:I tend to be more of an on hands domme. I like to engage in activities and see the response I am causing, even if the activity is restriction. Strict but sensual sadism is how I often describe it. I do not enjoy verbal humiliation or degradation. I love physical humiliation though. I like to describe myself as your friendly neighborhood dominatrix who
will keep you in line.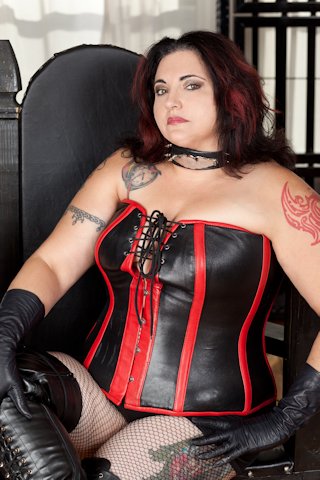 Q: Mistress, do you also offer other services such as phone domination, email/online, training?
A: I am just jumping into the 20th century with Niteflirt and video clips. Currently, I offer phone sessions via Niteflirt or private appointment. I do not engage in email/online training as I find it hard to develop a connection via such medias. I will do cam sessions as that provides me with the connection.
Q: Mistress, what are the things You most like and dislike in a slave?
A: I have written a paper entitled "How to meet the Domme of your dreams" which includes the top 10 sub types not to be. I think my top thing I dislike in a slave is self-centeredness.Power exchange is key. if it too one-sided, neither of us will feel satisfied. What I most like in a slave would be awareness. Be aware of who you are and if you truly desire to serve me as a Mistress. Aware of my likes and dislikes as well as yours. Aware of your surroundings, esp when serving me and what I may need.
Q: Mistress, what are Your favourite gifts from a slave?
A: Something that shows they have put thought into what I enjoy. They have researched my wishlist and social feeds to learn abit about my personality. And if doubt, ask me directly. I also enjoy gifts that can introduce me to something new such as music or book. Something they find interesting. it helps me learn about my submissive.
Q: Mistress, what advice would you give to a novice who has never visited a Mistress before?
A:Do your homework when considering a Mistress. Know some of what you are interested in, your turn-ons and triggers, what style of Mistress you might enjoy. Check a lady's reputation thoroughly. Keep an open mind about what Mistress might work for you. Do not judge on looks alone as it may not be a good fit.
Q: Mistress, do You own any 24/7 slaves?
A: I do have a lovely stable of 24/7 slaves, both male and female. My longest slave in my girl, Deka, who has been with me for 10 years. My sissy girl has been with me for 5 years. My collared male slave just passed 7 years. I prefer to have long term power exchanges instead of short term sessions. As a lifestyle Mistress, I enjoy Q: Mistress, what about those slaves looking for a long term serious commitment of slavery to You. What would be Your requirements of such a slave?
A:Start at the basic session level first to see if we are a good fit. Do not jump the gun and expect that right out the door. Work for it. Earn it. Truly desire to develop a connection with me on a D/s level. If you feel ready to move to the next level, discuss it with me. Be honest in what you seek from serving.
Q: Mistress may You please tell us how we may obtain more details about you and how to serve you?
A:Submissives interested in serving me may visit my main website at: www.chicago-mistress.com
I may also be found via these sites and social media.
When contacting me ,please do so respectfully. Include your interests and desire for session date/time. Provide any information you feel might assist me in designing a scenario for us. Include any health issues and prior experience.