Mistress Tia Profile and Interview
Mistress Tia of Derby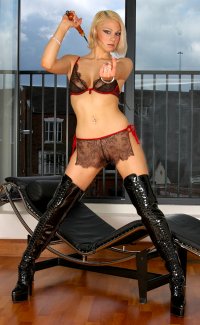 Interview with Mistress Tia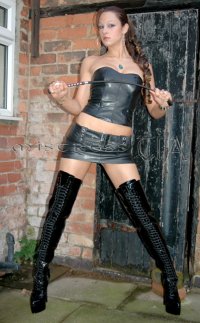 Q: Mistress, would You kindly tell us a little about your background and how you became involved in Domination?
Mistress Tia: I became interested through an invitation from my good friend and fellow mistress, Mistress Vixen from Derby. I went along with her to a photo session for a DOM website and I enjoyed it so much she suggested I do a 'live' session with her. Since then I have never looked back and thanks to Mistress Vixen's help and encouragement I am now a professional independent Mistress with my own style, my own website and a growing following of slaves and admirers.
Q: Mistress, what advise would you give to slaves who wish to serve you?
Mistress Tia: Make sure they are clean, punctual and ready to obey. That they understand the nature of and are serious about their chosen services - NOT TIME WASTERS!
Q: Mistress, what are your favourite types of session?
Mistress Tia: All types, but CP and humiliation sessions are particular favourites along with duo sessions with Mistress Vixen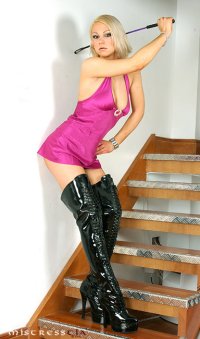 Q: Mistress, do you attend any clubs relating to BDSM/Fetish lifestyle?
Mistress Tia: Yes
Q: Mistress, What do you prefer to wear during sessions?
Mistress Tia: Hot colours - more interesting than just black - and whenever possible an outfit that is a slaves favourite style or particular request.
Q: Mistress, please could you describe your style of dominance?
Mistress Tia: Complete control over the slave whatever styles of service they request.
Q: Mistress, do you also offer other services such as, phone domination, email/online, training?
Mistress Tia: Yes I do, telephone training is a favourite of mine as are feminisation, make up and maid training sessions.
Q: Mistress, would you work alongside another Mistress in session or do you prefer to work alone?
Mistress Tia: I enjoy both solo and duo sessions equally.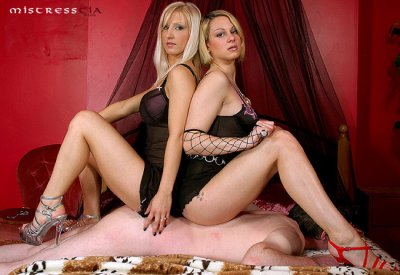 Q: Mistress, what are the things You most like and dislike in a slave?
Mistress Tia: I like cleanliness, eagerness and honesty. I dislike slaves who insist on asking for services that I have already said no to! or who are obviously experimenting with a service that they don't understand or are properly prepared for.
Q: Mistress, what are Your favourite gifts from a slave?
Mistress Tia: Anything nice!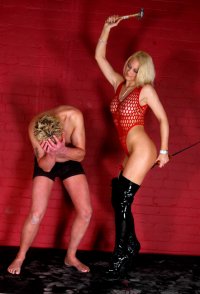 Q: Mistress, what advice would you give to a novice who has never visited a Mistress before?
Mistress Tia: Come and see me, I will take care of you. I am particularly sensitive to a novices requirements and fully understand that they may be shy, nervous and a little bit apprehensive about visiting a mistress. I find also that a telephone session will often help a novice before a face to face session is arranged.
Q: Mistress, do You own any 24/7 slaves?
Mistress Tia: I have Donte, my house slave.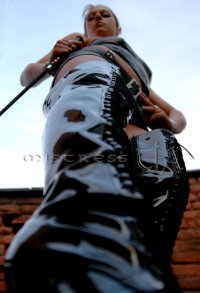 Q: Mistress, what about those slaves looking for a long term serious commitment of slavery to You. What would be Your requirements of such a slave?
Mistress Tia: They must be prepared to understand that a long term relationship with me must be interesting and varied, not personal and that I am not to be taken for granted!
Q: Mistress may You please tell us how we may obtain more details about you and how to serve you?
Mistress Tia: RETIRED
Mistress Tia Clips
>>READ ANOTHER MISTRESS INTERVIEW