Mistress Fox Profile and Interview
Premier UK Whip Mistress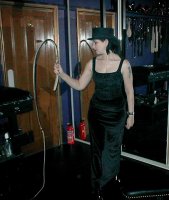 I am a 36 year old lifestyle Mistress who has had a practical interest in SM since the age of 18. I consider myself to be sensually sadistic, quietly demanding, and extremely passionate about my lifestyle. I don't play games, or try to disguise who I am by taking on the role of someone else. What you see, is very much what you will get!

I am well known in SM circles as a skilled bullwhip mistress. Singletail whipping (including signal whips, snake whips and bull whips) is my main speciality, and my passion. I have practiced hard for several years to perfect accuracy and precision, and use a variety of techniques with both long and short whips. When not in session, I spend my time working on new techniques with the help of my life-sub and long suffering whipping boy, Dave.
Location Information
All my sessions take place in Croydon. I am available for consultation Monday - Saturday (2pm - 9pm). I have access to superbly equipped chambers which are situated at a pleasantly discreet location in Central Croydon, just minutes from main line rail links into Central London and the South Coast.

The venue has a large dungeon and smaller torture room plus a relaxation area where you may be privileged to serve me tea after the session, plus bathroom/shower facilities if needed.

Equipment:
Bondage/Suspension frame
Wall mounted cross
Bondage sling
Bondage/Torture chair
Large steel punishment cage
Bondage bench
Deluxe spanking benches
Interview with Mistress Fox of London
Mistress, may You kindly tell us a little about your background and how you became involved in Domination?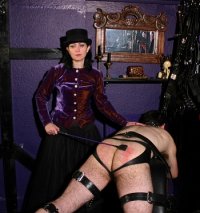 I'm a naturally dominant person and have had an interest in all things alternative since my teens. My first Sm experience was at the age of 18 when I discovered my then boyfriend enjoyed being spanked with a leather belt. I also had various whips, crops and leather clothing around, but had no idea about the BDSM lifestyle back then. It was just something we did. It all changed when I found a D/s lifestyle group on MSN 6 years ago and have been out ever since.
Mistress, what advise would you give to slaves who wish to serve you?
Be honest and open about yourself, your limits and your interests. I am more likely to session with people who have taken the time to read my website thoroughly before contacting me Compatibility of interest is a must for me.
Mistress, what are your favourite types of session?
This is a tricky one. I think the best sessions I have done have certainly been with those who totally let go and allow me to take complete control of their body and mind through a sensual whipping. Having someone place that much trust in you is an amazing feeling, wonderfully empowering. I also get a lot of enjoyment from introducing newbies to the delights of the single tail and watching them progress session by session.
Mistress, do you attend any clubs relating to BDSM/Fetish lifestyle?
Yes, but not as often as I would like. Recent events I have attended include: Subversion in London, SWAMP in Bristol and a private monthly play event run by some close scene friends in London. I'm also a regular at the London fetish Fair and have given singletail whip demonstrations at various fetish events around the UK.
Mistress, What do you prefer to wear during sessions?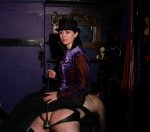 What ever I feel comfortable in. My outfits range from PVC catsuits to traditional equestrian style clothing. I'm not overly keen to dress to order, I'm very much a mood dresser and will wear what I feel compliments the type of session I have in mind.
Mistress, please could you describe your style of dominance?
Quietly commanding, and sensually sadistic with a little light humour. I have my own style and am much more comfortable being myself rather than taking on a role.
Mistress, do you also offer other services such as phone domination, email/online, training?
No, I'm very much a face to face Domme. I like to enjoy the visual aspect of my work :o)
Mistress, what are Your favourite gifts from a slave?
I never ask for gifts in addition to tribute but have received some lovely things from my regulars including: My most recent addition to my whip collection, Diamond bracelets, Clothing, Boots, Champagne and flowers.
Mistress, what advice would you give to a novice who has never visited a Mistress before?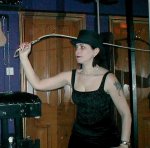 First and foremost, try not to be nervous. Most professional dommes will go out of their way to put you at ease and talk you through things slowly. Let them know if you have any phobias (ie confined spaces) or medical conditions beforehand so that the mistress is aware of your general wellbeing, and any activity that should be avoided. If, after booking the session you are unable to attend (for what ever reason) do contact the mistress and cancel. She will be more likely to re schedule if you are honest.
Mistress, do You own any 24/7 slaves?
I have a submissive partner who shares my life. We enjoy a full D/s relationship and have worked hard to find a natural balance that suits us. I do however, have regular 'slaves' who submit to me exclusively.
>>READ ANOTHER MISTRESS INTERVIEW