Princess Jessika Interview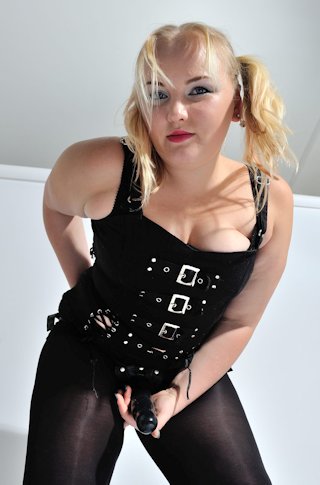 A Profile and Interview
Q: Mistress, would You kindly tell us a little about your background and how you became involved in Domination?
Princess Jessika: I remember when I was only 18, going to a friend's house for dinner and being served by this submissive in a maid's uniform. After the initial surprise, I realized it seemed the most natural thing in the world, to be waited on and served in that way. So I found myself a slave to train to serve me as I wanted to be served, and learned a lot about the psychology of domination along the way.
Q: Mistress, what advice would you give to slaves who wish to serve you?
Princess Jessika: A slave should think of its Mistress's needs, not its own. A slave should have a deep desire to serve, and its Mistress's requirements should be uppermost in its mind.
Q: Mistress, what are your favourite types of session?
Princess Jessika: That's such a hard question! I do enjoy the psychological domination of my submissives – that moment when they stop fighting against their desires and submit to me. But then I am a great fan of using the strap-on on men, such a delicious role reversal and very empowering for Me!). I think my favourite implements are the cane and the paddle.
Q: Mistress, do you attend any clubs relating to BDSM/Fetish lifestyle?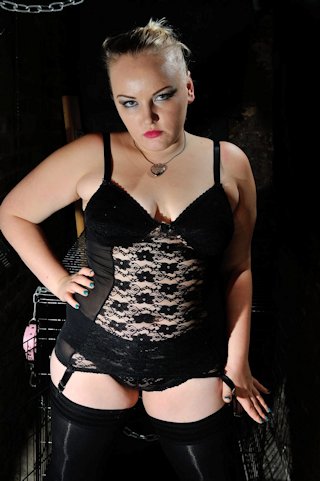 Princess Jessika: I am a regular at Club Subversion and also go to Torture Garden. Pedestal is also a great club for Dominant women and I enjoy Toppers.
Q: Mistress, What do you prefer to wear during sessions?
Princess Jessika: I have a number of different outfits, depending on what we are doing. For instance, if I am using a strap-on, my outfit must allow ease of movement! If I am caning, my arms must be free to get a good swing. And I love my boots, shiny black patent boots to be kissed and trampled by. Sexy black lingerie can be very hot but perhaps my leather corset is my favourite.
Q: Mistress, please could you describe your style of dominance?
Princess Jessika: I love that fact that my style is cute, blonde and I love pink, yet the pigtails may lure the slave into a false sense of safety, followed by a sudden dose of reality when it finds that my dominance is absolute. I don't shout at my slaves, they can tell that I am serious just by the tone of my voice.
Q: Mistress, do you also offer other services such as phone domination, email/online, training?
Princess Jessika: Yes, I do phone and WebCam domination, which is great for those that can't travel to visit me in person. It can still be an intense experience. Also online training can be rewarding for those in certain circumstances. I have had online slaves in Europe and as far away as California
Q: Mistress, what are the things You most like and dislike in a slave?
Princess Jessika: I must admit I love men, I love my regulars and their kinks and this is what makes the job so rewarding. I dislike lateness and timewasters and poor hygiene.
Q: Mistress, what are Your favourite gifts from a slave?
Princess Jessika: I have a wishlist on my website, but flowers and a nice bottle of wine go a long way towards pleasing this Mistress.
Q: Mistress, what advice would you give to a novice who has never visited a Mistress before?
Princess Jessika: You will be nervous – that anticipation is all part of the build up. But once you submit to Me, you don't have to think, you don't have to worry. It's an hour or two's escape from real life and all you have to do is obey!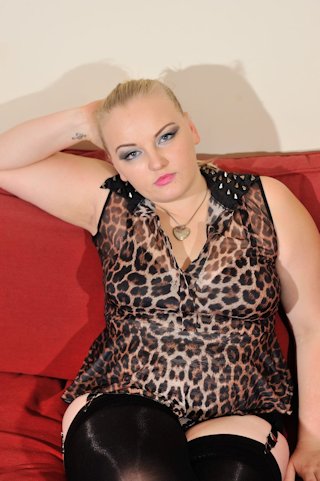 Q: Mistress, do You own any 24/7 slaves?
Princess Jessika: Yes, I have owned a slave for over five years – he has been collared to me for two years and he is a faithful and obedient slave. He needs occasional punishment to keep him focused and has his routine of daily tasks set to serve Me.
Q: Mistress, what about those slaves looking for a long term serious commitment of slavery to You. What would be Your requirements of such a slave?
Princess Jessika: I am only looking for slaves who can look after significant portions of my life – I most definitely need a wine slave!
Q. How do you make use of Social Media or is it something you don't have time for?
Princess Jessika: I use Twitter a lot, Facebook a little. Fetlife is also a useful site and of course I have my own website
Q: Mistress may You please tell us how we may obtain more details about you and how to serve you?
Princess Jessika: Details of how to serve Me are on my website http://www.princessjessika.com