Torn Apart By Sammi and Jo (Part One)
I had always fantasised about being tied down and helpless while a gorgeous dominant female stood over me, taking control and hurting me. I fantasised about being scratched and kicked in the balls until I was almost unconscious, I know this may sound extreme to some but that's the way it was. What I didn't realise back then was that my fantasy was soon to become reality.
TALK LIVE TO A MISTRESS
0982 224 0006
Now You Can Call from SKYPE!


I searched the internet for websites that offered me some relief from this fantasy and spent many hours thinking about how this could happen to me. I found Sammi and Jo's website when looking through a site that specialised in ballbusting. I couldn't believe it, this girl was young, attractive and offered all the services I ever dreamed to think possible.
It took me a week or two before I got up the courage to make an appointment to meet with Sammi. It was a Saturday morning when I made the call. My balls were aching with the thought of actually making my fantasy a reality.
I called her at 10am, she sounded great on the phone; so full of energy and so very friendly. How was it possible for this girl to fulfil my fantasy, I though. As if she had read my mind, she reassured me that I should not be put off by her friendly demeanour and that she is really an evil bitch. I couldn't help but give out a nervous laugh. I made a appointment for 2 pm that same afternoon.
The wait was driving me mad, I jumped onto the internet and looked over all pictured and movies I had collected. I couldn't help but to relieve myself in preparation for what was about to come. Time dragged as I waited and for some unknown reason my fuzzy logic told me I should set of more than hour ahead of my appointment as I didn't want to be late.
TALK LIVE TO A MISTRESS
0982 224 0006
Now You Can Call from SKYPE!


I arrived in her home town 40 minutes too early. I knew I would get that early but I didnt want to take any chances. Now I just had to sit in the car and wait to call her 15 minutes before 2 pm as agreed. I can remember the scenarios going through my mind and getting so excited that my cock left a stain on the front of my jeans.
Finally I called and Sammi answered, telling me to call around as soon as I could. She then dropped a bomb shell on me ... she told me that her friend Jo was there and she wanted to show here some moves on me if I wouldn't mind... what the hell was I to say? I had seen pictures of Jo on her website so I knew she was young and attractive too.
"Okay, that's not a problem" I blurted out without hesitation.
I arrived at the house and Sammi greet me at the door, she was just as described and I followed her up the stairs, I couldn't keep my eyes off her tight denim clad ass as she walked up the stairs in front of me. This was like meeting an old friend. Sammi offered me a coffee, I thanked her and refused, keen to get on with the fun and games. Then Jo came into the room, my mouth dropped as she entered, she was wearing just her blue bra and knickers and she had on the most amazing thigh length boots with pointed heels.
"Right, shall we start then", said Sammi.
"Yes" I replied, rather nervously.
"I'll just go and get changed, Jo will look after you for a while" Sammi said with a mischievous grin on her face as she left.
No sooner as the door was closed, Jo's face turned from one of a friendly young early twenties blonde to a stern mistress.
"Get your clothes off now, you pathetic worm!!" she snapped. "Hurry up, I want to see that pathetic cock of yours".
I looked at her, startled. "Come on, what are you waiting for?" she shouted. At that, I immediately started to strip. She grabbed a long whip that was lying against the corner wall and then sat down on a large comfortable chair and crossed her legs. "Come on strip faster!" she shouted.
I finally got down to my boxer shorts and rather gingerly took them off. Exposed in front of this young girl, I stood there with my hands in front of me.
"Put your hands behind your back" Jo snapped.
As I did that, my excitement became obvious as my cock sprang into vie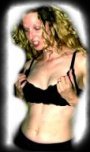 w, very hard and very erect. I didn't expect the reaction I got - Jo burst out laughing... I didn't know what to do or where to look. It sounded genuine and it felt humiliating to say the least.
"Is that it?" She laughed as she used her long whip to prod at my cock and balls. Of course, this just made me more excited, despite the humiliation of having this young blonde laugh at my pride and joy.
"Get on your knee" she commanded.
I did as I was told and knelt in front of her. She reached over to a holdall that was sitting beside the chair and pulled out a small saucer. She placed it in front of me on the floor.
"Do you know what that's for? She grinned.
"No, I don't, sorry" I said rather too apologetically.
"Well, my dear, that's in case you have an accident. I want to see all your cum on that saucer and we're going to watch you lick it all up. Good hey?"
"Yes" I said as Jo stood up in front of me and walked over to me. She pulled my head up. I was staring up at her as she smiled down at me. Without warning, she kicked out and her leather clad foot smashed into my cock and balls. I immediately grabbed my balls and dropped down.
"Get up now!" She shouted. "Put your hands behind your back, I told you".
I did as I was told and with that she pulled my head up once more. This time I was terrified. I thought I knew what was coming. Then the door opened and in walked Sammi.
"I see you've been getting to know Jo a little better" she said. Sammi was dressed in a black leather bra and black leather hot pants. She looked great.
"Don't look at her, look at me" shouted Jo as she yanked my head back up to her. "Now open your mouth, you little shit! Open it wide"
I slowly opened my mouth as Jo leaned in towards me. I realised what was about to happen. She cleared her throat and then started to dribble a huge amount of spit from her cherry red lips into my open and waiting mouth. I couldn't believe this was happening to me. I felt her warm saliva run down my tongue and down my throat.
As this was happening Sammi had positioned herself right behind me and she had taken a handful of my hair to hold my head back as Jo finished spitting down into my mouth.
"Now, it's my turn. Head back!" shouted Sammi. I kept my head well back as Sammi started to drip her warm saliva into my mouth, this was degradation. "now swallow it all" Sammi said. I did as I was told.
Just as finished swallowing their warm saliva, Jo lifted my head again and slapped my face hard.
"You will be a good boy now, won't you?"
To be continued ....
>> Return to the Stories Index