Spitting Fetish Movies
When it comes to a spitting fetish, there are no end of Mistress and Dominatrix standing in line to dish out the loughie. Finding a real life Mistress who is willing to entertain a spit fetishist is no problem. The first thing you need to do is find the profile here on the site then call or email her. Make sure to tell her about your fetish before you arrive.
Extreme spitting can be quite demanding for a Mistress. If you book a session for an hour then try to include a complimentary fetish. Some say verbal humiliation or even ballbusting can be good wrappers for a spitting session.
The following movie review includes at least four free spitting fetish movie downloads.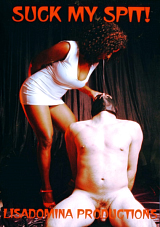 Suck My Spit
Running Time: 47 minutes
Studio: Lisadomina Productions
Stars: Mistress Lisa, Sissy Sandy, Slave Jeff
Mistress Lisa prepares for her toilet slave by pissing in a baby bottle and a dog bowl. Then we get to see her humiliate her slaves in several memorable clips where she spits all over her slaves face and in his mouth. Never one to let a slave go hungry, Lisa chews up food and spits it in the piss pot pushing his head into the disgusting mess with her stiletto heels!
More Spitting Fetish Movies
Enjoy our recommended movies for all the spit fetish guys out there.
Suck My Spit
Spittin' On Doggie Slave For Fun
Cruel Ebony Domme And Her Sissy Spit Slave
Spit, Kick and Cum
If you want to combine a few scenarios then this is on the one for you.
Watch them now at the theatre.